Company prepares to scale its virtual, reimbursable solutions for chronic disease to help providers manage high-risk patients during COVID-19 and beyond

Los Angeles – May 11, 2020 – inHealth, a Lifestyle Therapeutics company with a mission to unlock the human potential for preventing and reversing chronic disease, today announced the appointment of Harry Kim to Chief Executive Officer, in addition to his position as Executive Chairman. Kim takes over the role of CEO from Aubrey Jenkins (co-founder) who will transition to President of inHealth. The Company also expands its leadership team with the appointments of Brittany Kodish to Director of Business Development and Amanda Guisbond to Director of Marketing and accelerates its plans to hire and grow while telehealth, remote patient monitoring and effective triaging of healthcare workers takes center stage amid the COVID-19 pandemic.
"Lifestyle is the biggest predictor of a person's overall health – more than medical care and genetics. To treat disease, we must treat lifestyle," said Aubrey Jenkins. "Lifestyle therapy takes on new meaning during this COVID-19 pandemic, as providers struggle to stay connected to their high-risk, hard-to-treat patients. To manage chronic diseases like obesity, heart disease and diabetes, providers and patients must embrace telehealth and clinically based lifestyle programs."
Adds Jenkins: "We have spent 12 years forging a new form of therapy, turning lifestyle into medicine. Scaling a new standard of care requires new leadership. I am honored to partner with Harry to advance our mission to help millions of Americans. As a seasoned digital health leader, Harry has scaled mobile health apps and services in companies like Amwell, Samsung and HP. I have never been more excited for the future of care delivery."
inHealth Lifestyle Therapeutics put lifestyle science into action through accredited coaching that delivers blockbuster patient outcomes. Lifestyle Therapeutics are:
Backed by randomized, controlled clinical trials and proven to activate and sustain long-term patient outcomes. Read more about our clinical research here.
Personalized to each patient. Patients are matched with a dedicated, certified health coach and receive a program tailored to all their health needs (not just one condition).
Often prescribed by physicians and covered by most insurance.
Delivered via mobile telehealth.
"The healthcare professionals delivering care every day are front line warriors and heroes. In the fight to improve people's health, we need more than pills, procedures and devices. We need to unlock and empower the human potential underlying disease progression and management," said Harry Kim. "Lifestyle Therapeutics represent a new standard of care that complements and improves how providers, health plans, medical device companies, and other innovators deliver meaningful outcomes. The time is now… let's go!"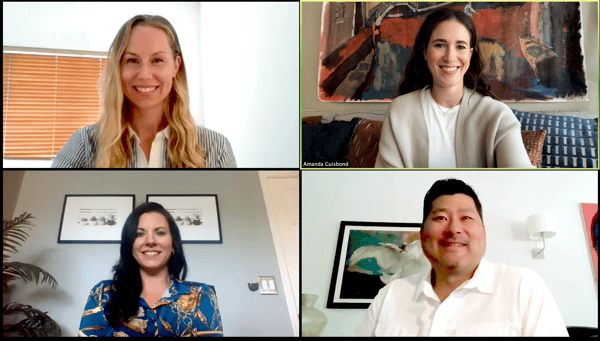 (From top L to bottom R: Brittany Kodish; Amanda Guisbond; Aubrey Jenkins; Harry Kim)
For more on the new leadership team and the history of the company, read on.
About the Expanded Leadership Team
Harry Kim, CEO and Executive Chairman
Harry Kim joined inHealth in October 2019 as Chairman in May 2020 was promoted to CEO. He brings 20-plus years of executive experience in healthcare and technology to the team. Previously, Harry was SVP and General Manager at Amwell and before that, served as the Global Business Lead for Samsung Health where he led strategy and business development, connecting millions of consumers to clinical services through mobile technology. Prior to Samsung, Harry spent 10 years growing Hewlett-Packard's Health and Life Sciences industry business from $3 billion to $11 billion and organically built a $1 billion-plus business around HP's Digital Hospital solution. Harry was also a management consultant for E&Y and Deloitte and led product management and marketing for B2B startup Converge.
Brittany Kodish, Director of Business Development
Brittany Kodish served as the key account director for Sydney, Australia-based telehealth start-up Coviu before joining inHealth. Before that she worked on the clinical side of Amwell (then American Well) supporting doctors and key accounts in adopting and streamlining telehealth programs. Brittany also served as an account manager for large group practices at electronic medical record company athenahealth.
Amanda Guisbond, Director of Marketing
Amanda Guisbond has held in-house communications and marketing roles at Amwell and athenahealth. Most relevant to inHealth, Amanda led corporate communications, PR and content marketing for Amwell, generating national awareness of Amwell's white-label telehealth platform for health systems and health plans. Amanda has also worked on the agency side at various firms supporting healthcare leaders and innovators such as HIMSS, Moderna Therapeutics and Genome Medical.
Harry, Brittany and Amanda join the existing inHealth leadership team: Aubrey Jenkins, Co-Founder and President; Michelle Alencar, Ph.D., Co-Founder, Chief Science Officer and Head of Research; and Johnnie Jenkins, Co-Founder and Chief Operations Officer.
About inHealth Lifestyle Therapeutics
Founded in 2008 as a brick-and-mortar company, inHealth was inspired by real patient challenges. After Aubrey Jenkins' mother had bariatric surgery, she was concerned about the lack of outpatient care and support programs available. Aubrey saw her mother build one of the first reimbursable, medical weight management programs in the nation, helping people who struggled like she did. Aubrey knew she wanted to help more patients get access to the care they needed to succeed long-term. Enter: inHealth.
Over time, the proprietary InHealth Method for managing chronic conditions including obesity, heart disease and diabetes emerged and in 2016, moved to a telehealth model. It involves 1:1 health coaching over video with NCCA Certified Health Coaches (registered nurses, registered dietitians and clinical care nutritionists) with previous healthcare experience. Patients can be referred by their providers and have visits covered by insurance. The InHealth Method has been proven across multiple, clinical studies.
InHealth is currently partnered with several large employer groups, two global medical device companies and one of the nation's top five commercial payers. Like its services, the company operates virtually with team members across the United States. For more information on inHealth Lifestyle Therapeutics please visit our website at www.inhealthonline.com.